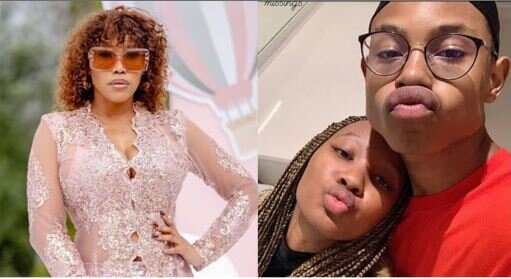 Sonia Mbele awoke to the heartbreaking news that her son, Donell Mbele, has been accused of physical abuse by his girlfriend and baby mama. The worst nightmare of a mother!
Donell Mbele and his mother Sonia are both trending on social media after Reokeditswe Makete shared receipts from her alleged abuse at the hands of her baby daddy.
She provided receipts, pictures of her bruised face, and even a private message between the two of them that was leaked.
Sonia Mbele, whose name is linked to this scandal, has issued a statement stating that her son will confront his demons and seek therapy.
"I woke up this morning to a different world, a world I thought I had long buried. From the age of 17 to 26 I was with a man who was abusive, physically, psychologically and emotionally," she started off her statement.
She explains why she mentioned this in the very beginning because she wants people to understand her side as a mother and woman who also endured abuse from a loved one. She then goes on to condemn her son's actions and said she does not support abuse.
"I do not stand for, support or condone such [a] stance. These are struggles I've spoken about extensively in my early career to encourage other women in similar situations."
Sonia then spoke of Reokeditswe Makete and said she welcomed her into her home and treated her like a daughter. She said even after making these startling allegations against her son, nothing has changed between them.
"I not only welcomed Reokeditswe Makete into my home but I treated her as a daughter and I worked with her in support of her career in the entertainment industry, and right now I would like to reassure her that she still has my love and full support.
"As a mother I wish she had come to me to inform me on what was going on because finding out on social media broke my heart. I've always been there, I've always been supportive," she added.
"I now realise I should have taken preventative measures much earlier such as counseling and/or child therapy, but sometimes the mistake we tend to make as African single mothers is to assume and hope things will work out for the best meanwhile certain past behaviors can affect generations to come. "
Sonia then expressed that she would like her son Donell to face the music, "With that said Donell will face his demons and take accountability for his actions and let the law take its course. I refuse to raise a man like his father. Rehab, therapy and internal healing will prevail," she concluded and also thanked South Africans.