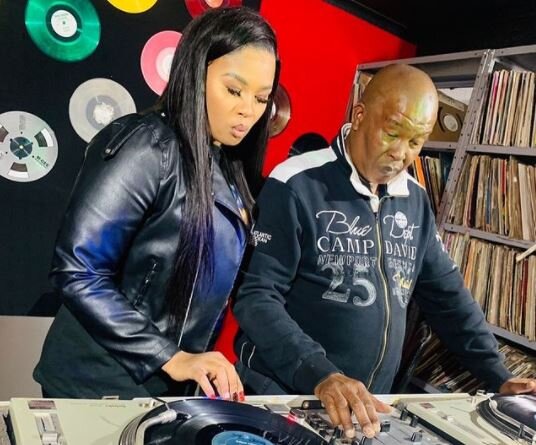 Duduzile Ngwenya, also known as DJ Lady Du, is an Amapiano DJ, songwriter, and vocalist who has been in the industry since she was 10 years old.
Lady Du was born into a musical family in Vosloorus, and her father is a veteran DJ and music producer who was born into a musical family as well.
Here's everything you need to know about DJ Lady Du's father, their internet-shattering scandal, and where the father-daughter duo stands right now.
Who is Lady Du's father?
DJ Choc is Lady Du's father. He is a Vosloorus-born Hip Hop deejay, music producer, and sound engineer with decades of experience in the music industry.
DJ Choc's career began in the late 1980s, when his father opened Dukes Place, a popular nightclub in 1987.
DJ Choc's performances at Dukes Place helped him gain popularity, and he went on to perform at other clubs and radio stations such as Kaya FM, YFM, and Metro FM.
DJ Choc has collaborated with some of the industry's biggest names, including Mthembu Mncedisi, Rihiwe Manayage, DJ Cleo, DJ Clock, and Skipper Shabalala, to name a few.
What did Lady Du's father do?
In May 2022, both Lady Du and her father trended after they had a small misunderstanding that quickly escalated and blew up in their faces.
The whole saga began after DJ Lady Du shared a post that painted her struggles growing up which might have subtly implied that she grew up in a humble background.
Part of her now-deleted post explained how she wanted a different upbringing for her daughter and is working to provide her with a better life, which she apparently did not have. You can see how that would have been interpreted to mean that she grew up poor.
The statement was not well-received by her father who in a video shared his frustrations about his daughter's statements as he explained that he had worked hard to provide everything for Lady Du and was confused with her implying that she grew up in poverty.
"I do not know what Lady Du means when she says she grew up poor when I worked so hard to give her a comfortable life. She then went and h*ed around and ate money with all these men and she continues to spend money on these men. What is she doing now? She did not grow up poor, she had everything she needed." Lady Du's father said in part of the video.
It didn't take long for the video to go viral and for tweeps to react to the video with many tweeps bashing Lady Du for being "ungrateful" and others criticizing her father for bashing her publicly.
Did Lady Du and her father patch things up?
While DJ Lady Du denied ever claiming that she grew poor, her father also shared an official statement apologizing for the video explaining that he had recorded and shared the video with a family member to vent out his frustrations about Lady Du's claims but that it was never his intention to engage in the social media drama that followed.
It appears that the father-daughter duo resolved their differences and their relationship is much better. A few months after the drama, Lady Du took to Instagram to share with her fans that she and her brother/road manager Sipho Something had gone to surprise their father with a visit and she even shared a photo of herself with her father.