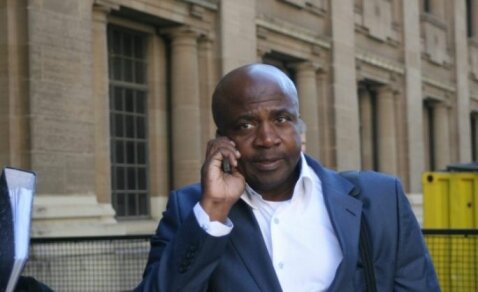 Chicco Twala, a well-known music mogul and businessman, has enraged social media users by revealing that he spent the weekend in Umlazi with the Meyiwa family. Twala made the shocking revelation in the Pretoria High Court on Tuesday, November 15th.
Longwe Twala, Chicco Twala's son, was present when intruders broke into the house and brutally murdered former Orlando Pirates goalie Senzo Meyiwa.
Meyiwa's sister Nomalanga Meyiwa confirmed to eNCA that the music mogul did indeed visit her family while attending the trial proceedings at the North Gauteng High Court in Pretoria. She refused to say anything about the meeting.
"Yes, Mr Twala came to our family home for a visit at the weekend to see our mother. Unfortunately, I don't want to get into the details of the meeting because I was not there, but I can confirm he did come over for a visit," she said.
Speaking to SABC senior journalist Chriselda Lewis, the music producer said he was there to give them support and to assure them justice will be served.
"I have been in contact with Senzo's mom for a long time. It is not a new thing. It is not the first time that me and her communicated. We communicate with her and there is nothing wrong with that. We are not talking about the case that is going on.
"I was there to give her support and tell her that justice will be served. I told her she must not worry too much. The passing of Senzo affected her a lot because he was a breadwinner. I told her that people like myself and all South Africans will support her and it is not like she is on her own now that Senzo is not around," SowetanLIVE quoted Chicco Twala as saying.
During the cross-examination of Meyiwa's friend, Tumelo Madlala, Longwe's name came up again. According to the Sunday World, the court heard that it was Longwe Twala, who allegedly shot and killed Senzo Meyiwa and ran off.
According to the publication in a statement presented to court Madlala said: "I was for the first time to see Longwe Twala, and I did not tell anyone or the Meyiwa family that Senzo was killed by Longwe Twala, because he did not have a firearm with him, instead he ran away."
Tweeps have weighed in on Twala's visit to the Meyiwa and pointed out how odd it is that he is coming at such an opportune time.
Chicco Twala after the death of Senzo Meyiwa he offered Kelly Khumalo a holiday overseas, now he is flirting with Senzo family, such people are dangerous to the core. #SenzoMeyiwaTrial

— Man's NOT Barry Roux  (@AdvoBarryRoux) November 16, 2022
Chicco Twala waited for Senzo Meyiwa's father, Sam to die first and 8 years later, when the case is in court. He visits Senzo's mom. Chicco didn't visit with good Senzo Meyiwa's family with intentions but he has an agenda. #SenzoMeyiwaTrial

— Man's NOT Barry Roux  (@AdvoBarryRoux) November 16, 2022
That visit by Chicco Twala seems preepmptive to me. Guy wanted to check if Meyiwas believe he/his son are involved. It's also narcistic. Guy wants to forgive himself but can't unless he dishonestly meet the victims. Could also be spiritually advised for closure. #SenzoMeyiwatrial

— Simphiwe Khumalo Says (@SimpiweKumalo) November 15, 2022
I couldn't sleep last night trying to figure out why after 8yrs ,Chicco Twala decided to visit Senzo Meyiwa's family. We are in this together folks help me find answers. #SenzoMeyiwatrial

— Bongani Siziba (@siziba_bongani) November 16, 2022
In May, Chicco told Newzroom Afrika's Xoli Mngambi, that the people who were inside the house when Senzo was killed know the truth.
"I was not part of the eight people. I think the people who know the truth are my son, Kelly Khumalo and the rest of the guys who were there. Because those people are conscious. Someone cannot be shot in their presence and they are all silent about it. They know who killed Senzo, my son knows, Kelly knows and everybody knows," he said.