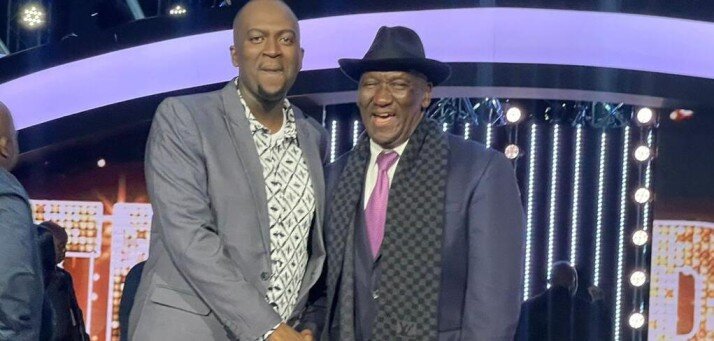 Police Minister Bheki Cele congratulated Warrant Officer Thapelo Molomo on winning Idols Season 18. Thapelo, from Mokopane in Limpopo, was crowned the winner of one of the show's most heated seasons yet. Thapelo won the prize after a grueling round of eliminations, with Nozi Sibiya coming in second.
When his name was called, the police officer couldn't help but get down on his knees and pray. Police Minister Bheki Cele, who attended the finale, congratulated the newly crowned winner on behalf of the SAPS.
In a statement, Minister said "The member serves as a beacon of hope for many police officers who are on a daily basis faced with psychosocial challenges. He has illustrated to thousands of officers that hard work, determination and perseverance is the foundation of any successful human being. We are proud of him and wish him all the best. We cannot wait to have him back in office to continue serving our men and women in blue", concluded Minister of Police General Bheki Cele."
#sapsHQ #SAPS management congratulates Warrant Officer Thapelo Molomo for being crowned the @IdolsSA Season 18 winner. Minister of Police, General Bheki Cele, who attended the finale, has on behalf of the SAPS, congratulated the newly crowned winner. MEhttps://t.co/g8md95HRsb pic.twitter.com/PFKreNLj7e

— SA Police Service 🇿🇦 (@SAPoliceService) November 13, 2022
Thapelo walks away with an impressive prize haul: just over R1-million cash, made up of R350,000 in a Standard Bank MyMo account, R300,000 from Spotify and R350,000 from Mzansi Magic; access to a Standard Bank wealth manager; a Toyota Starlet; a fashion voucher from Truworths and his live show outfits, all to the value of R100,000; R85,000 worth of musical equipment from Yamaha; and a recording contract with Kalawa Jazmee Records.
Shortly after winning, Thapelo took to his Facebook account to celebrate and thanked everyone who rallied behind him. "All honour and glory be unto God. Family, we are officially crowned Idols SA winner of Season 18, 2022. All this is because of the mighty God we serve. We have seen his power and ability. Thank you family for all your votes and support throughout. I have seen your unconditional love,"
Tweeps have congratulated him.
Congratulations to Warrant Officer Thapelo Molomo for being crowned the #IdolsSA season 18 winner. All the men and women in blue are proud of you! Thank you for hoisting the SAPS flag higher! pic.twitter.com/oTBnJxdDWN

— Athlenda Mathe (@AthlendaM) November 13, 2022
The ANC Limpopo joins the people of Limpopo and indeed the country in congratulating Thapelo Molomo on winning Season 18, #IdolsSA 2022.
Congratulations Thapelo. #Thapelo pic.twitter.com/F1j6jkNza0

— ANCLimpopo (@ANCLimpopo) November 13, 2022
Only one name on my lips..THAPELO MOLOMO..brother I am proud of you. You proved that whwn you remain faithful to God He will back you up. pic.twitter.com/NNCLot27Xp

— Nthabiseng (@NgoepeNthabi) November 13, 2022